Application
Hot product
Contact us
341413 3.7V 30mah small lipo battery for smart wearable device

Product Description
Item

Rating

Note

3.1 Capacity

Typical

30mAh

Discharge:0.2CmA

cut off Voltage:3V for cell

Minimum

25mAh

3.2 Nominal Voltage

Average 3.7V

Discharge:0.2CmA

cut off Voltage:3V for cell

3.3 AC Impedance Resistance

≤800mΩ

3.4 Discharge Cut-off Voltage

3.00V

3.5 Charge Current

6mA

Standard Charge

3.6 Charge Voltage

4.2V

3.7 Max. Charge Voltage

4.23V

3.8 Storage humidity

< 75%RH

Hygrometer

3.9 Fast Charge current

30mA

1.0CmA

3.10 Fast Discharge Current

30mA

1.0CmA

3.11 Weight

Approx 0.8g

3.12 Shipping Voltage

>3.80V

3.13 Operating

Temperature

Charge

0~+45℃

Can be operated at max Altitude 3000m and 8%~90% humidity.

Discharge

-20~+60℃

Get more than 50% discharge capacity (typical) in -15°C or +55°C.

3.14 Storage

Temperature

less than 1 month

-10~+35℃

Recommended storage temp: 20℃,at the shipment state.

less than 3 months

-10~+25℃

Can be stored at -25 ℃ or +70℃ in 48hrs.
A&S Batteries manufactures high quality, high performance custom lithium ion (Li-ion) and lithium polymer battery packs and assemblies.
Using advanced mechanical and electronic design tools, our expert battery design team will optimize the manufacturability, safety, and reliability
of your custom battery packs, giving you the most dependable and cost effective lithium ion or lithium polymer battery pack solution for
your needs.
Product Photo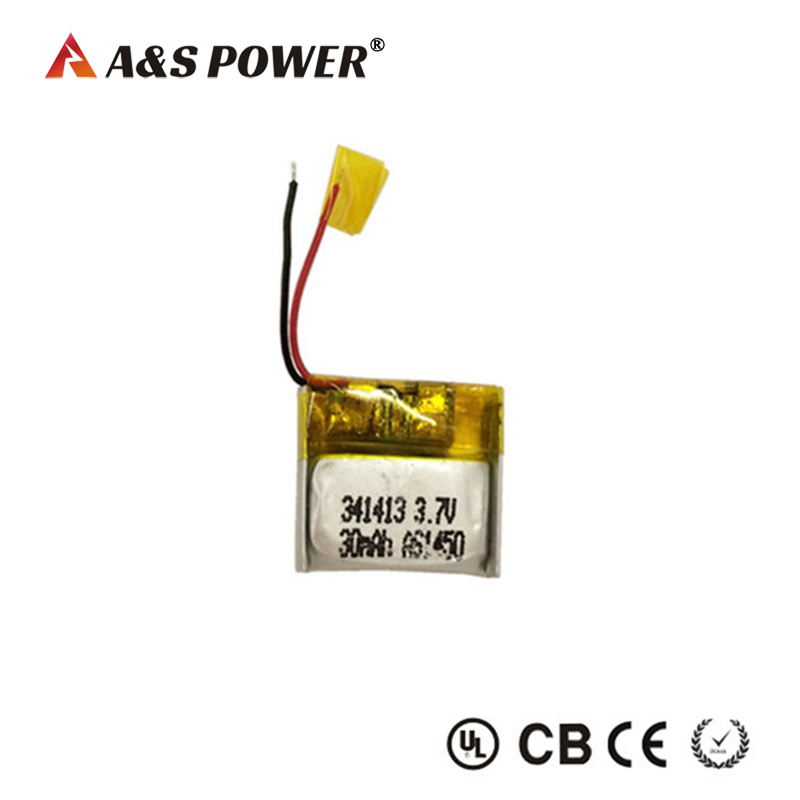 Battery Features
High Energy Density
High Voltage
Pollution-Free
Long Cycle Life
No Memory Effect
Minimal Self-Discharge
High Rate Charge/ Discharge
Packing and Shipping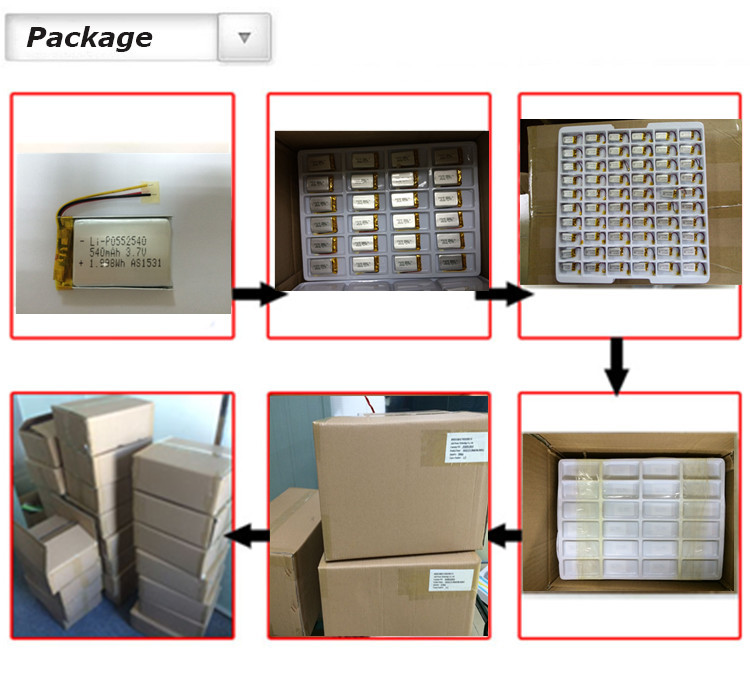 Cells Production Process
First from raw materials--drying--Balling--Mixing--Coating--Electrode drying--calendaring-cutting--punching--stacking—tab welding--
short circuit checking-pre-package--electrolyte injection--pre-formation--degassing-gas bag cutting--folding--code printing--formation--
aging--finished products.
Application
Telecommunications
Cellular Phones, PHS, Bluetooth earphones
Audio and Video Devices
Digital cameras, Camcorders, Portable DVD, VCD, MD and CD players
Information Devices
Notebook computers, personal fascimile machines, PDAs.
Electric Bicycles
Miner Lamps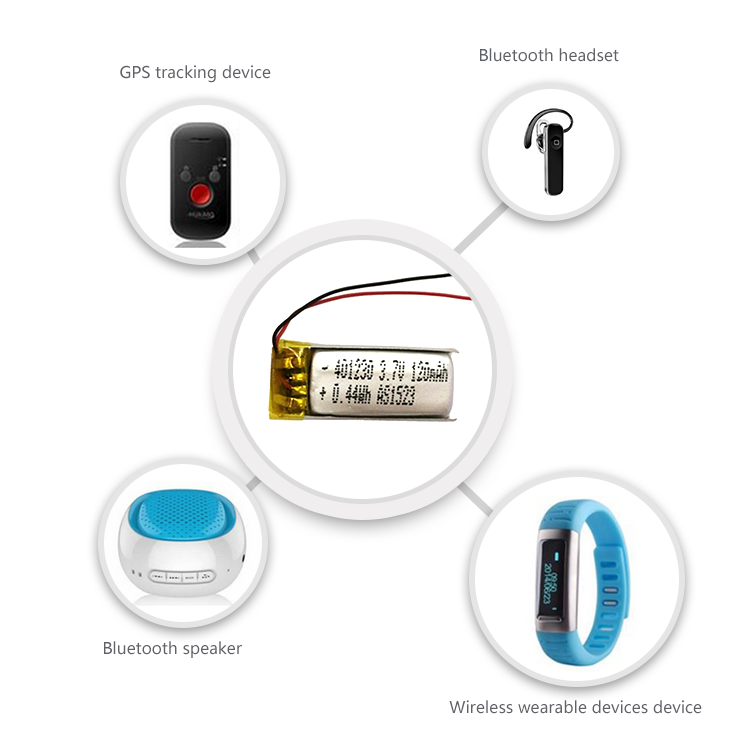 Company Information
Shenzhen A&S Power Technology Co.,Ltd, a OEM rechargeable battery manufacturer in China over 10 years. Specialized in Lithium polymer battery, LiFePO4 battery and Li-ion Battery. Our products are widely used in popular electronic products, such as Bluetooth Headset, Portable Speakers, consumer products, emergency light, GPS, digital player, solar & wind energy storage, electronic auto and E-bus.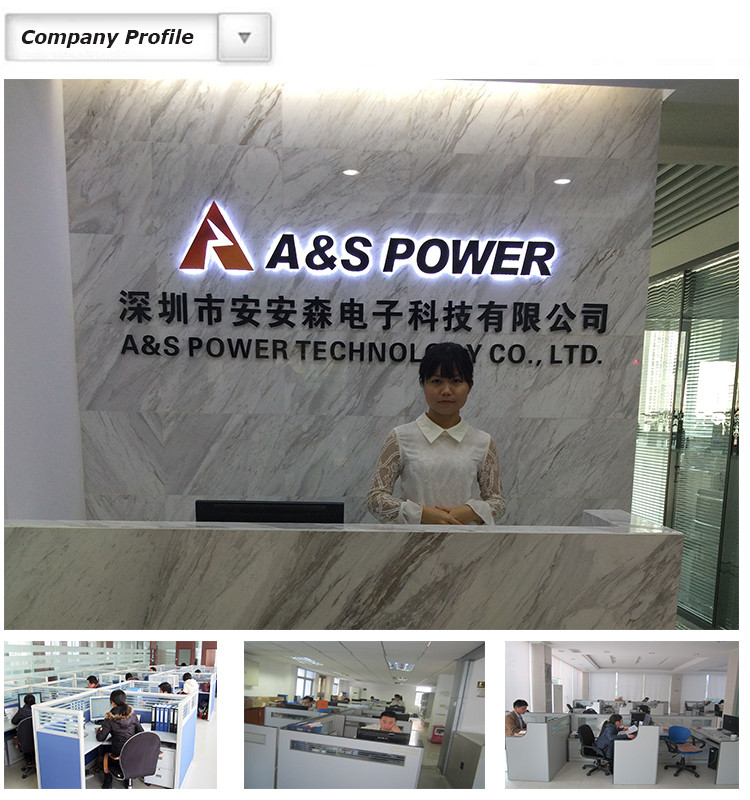 A&S Power has well presence in international fairs each year, such as CEBIT, HK Electronic Fair. We strictly implement the international management standards and have established a complete quality assurance system. So it's no wonder that our products got CE, UL, IEC62133, ROHS certification.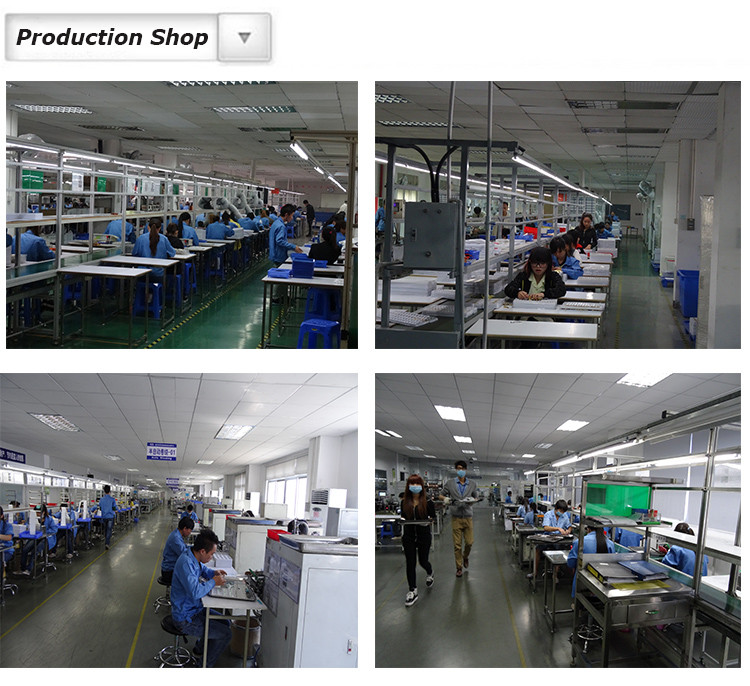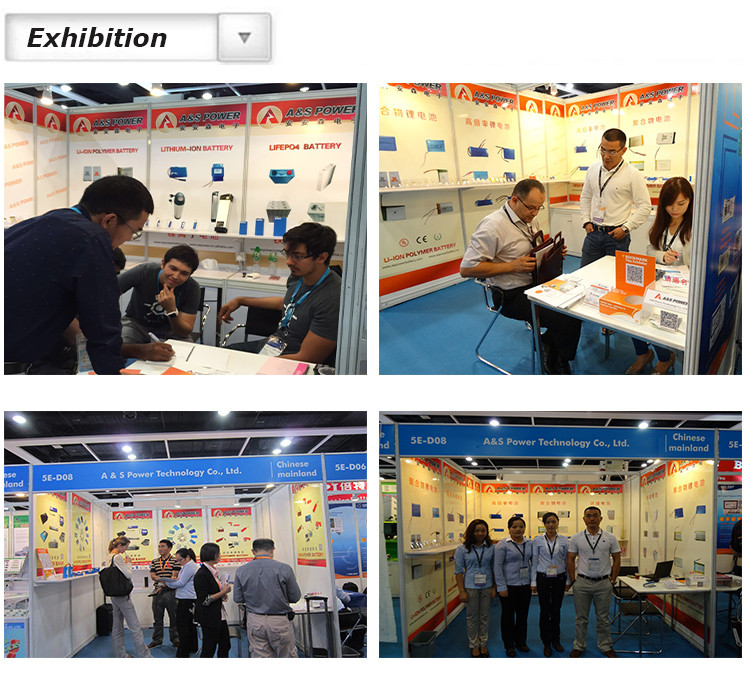 A&S lithium rechargeable battery manufacture has succeeded in selling rechargeable batteries to the international markets of America, Canada, Europe, Africa, middle-east and South Asia. As responsibility and experienced manufacturer, A&S Power is officially recognized by Philips, Mad Catz. We use "People oriented, Quality first, Keeping improving" as our mission statement, which makes us improve quality, reduce cost and enhance services constantly.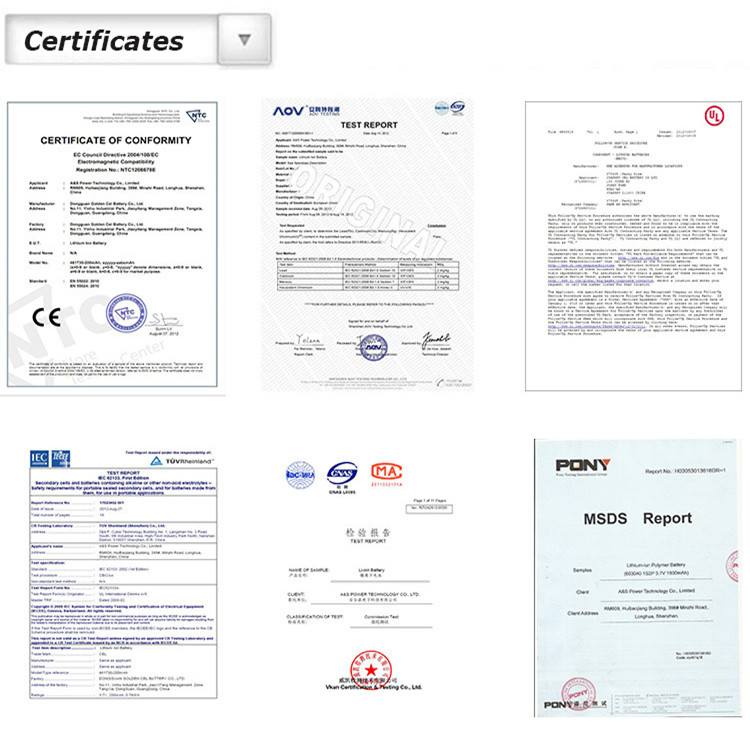 Our UL models: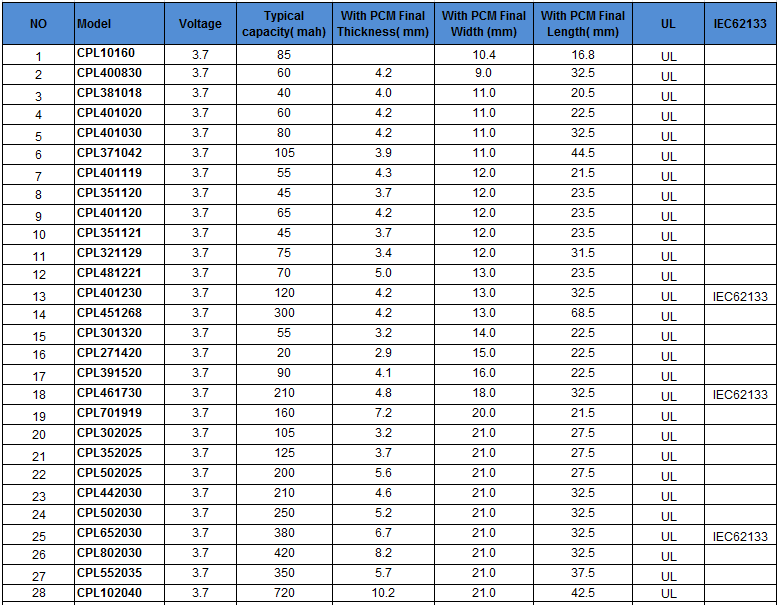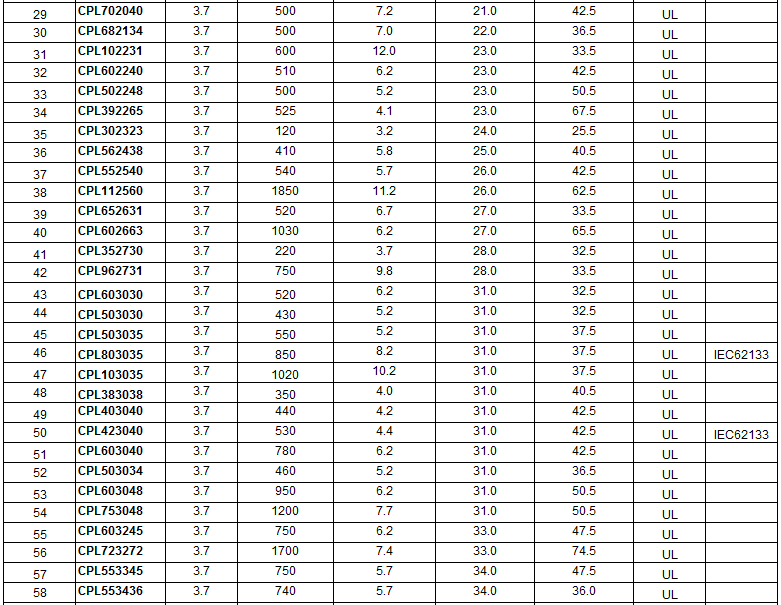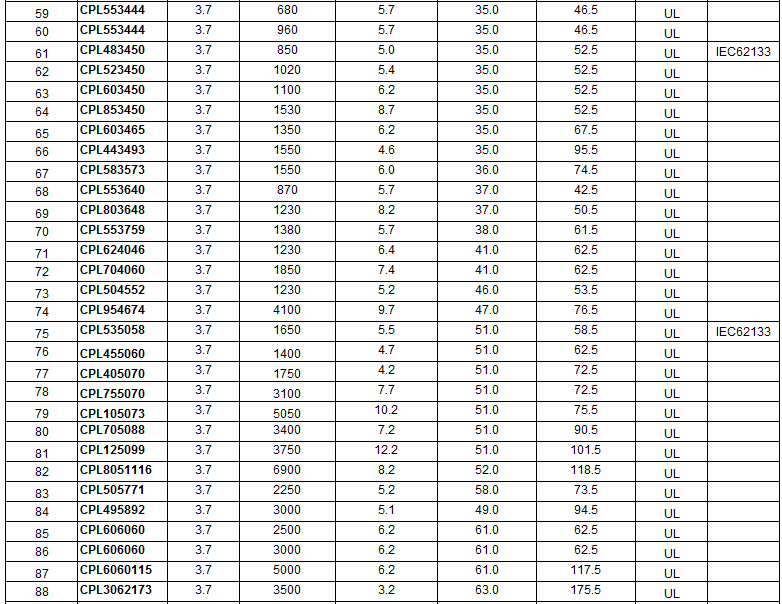 Advantage:
1.High Energy Density.
2. High Output Voltage.
3. Excellent Security.
4. Long Cycle Life: More than 500 repeated charge/discharge cycles.
5. Fast Charge Capacity: Can be fully charged in 2 to 3 hours with a rated voltage of 4.2 per cell
6. Environmental-friendly: No Pb, Cd added
7.Dual IC chips, that can anti-shortcircuit, anti-overcharger, anti-overcurrent, anti-overload;
8.Injection Technology to make battery more stable;
9.With short-circuit production function, safe and reliable;
10.Factory mastered technology and competitive price;
11.CE/ROSH/UL/MSDS/UN38.3/IEC61233 standard.
Q1: Can I have some samples for testing quality?
A1: Yes, you can buy some samples of any our products for testing quality and market.
Q2: How should I pay?
A2: You can pay via T/T,L/C at sight,Western Union, Cash etc., 100% T/T in advance for samples. For large quantities, 30% T/T in advance as soon as order confirmed and the balance before shipping via T/T or L/C etc. If you prefer other payment terms, please contact us freely.
Q3: What is your package looks like? Can I have the customized package?
A3: We have factory's current standard package, customized print logo shall be complied to buyer's requirements, and the extra charges will be borne by the buyers, for more details, please contact us.
Q4: What is delivery time if we place an order?
A4: It depends order quantities. Usually, we can deliver goods within 3 -5 working days for small orders, for more QTY. order, let's confirm when you place official order.
Q5: Are you factory?
A5: yes,we are factory.
Q6. Can you explain in detail how you match cells for a battery pack before you assembling the pack?
A6: We will do the following things before assembling the pack:
a. Select capacity, same capacities cells for one pack
b. Measure the voltage, same voltage cells for one pack(difference is under 0.02v per cell)
c. Measure the inner resistance,same IR cells for one pack (difference is under 1m Ohm)
All above steps are very strict to make sure the pack performance is perfect.


Q7: What&rsquos your advantage compared with other suppliers?
A7: a. High quality batteries: Our batteries are in enough capacity, and lower in RI,
Before shipment, we will inspect the products and ensure the quality which are well approved by our clients.
b. Better service: We always offer what our clients need. Reply client&rsquos questions timely. Supply best projects solution for clients. We ship out the products on time&hellip


Contact Us
Shenzhen A&S Power Technology Co., Ltd

Tel: +86-0755-28169348

Fax:+86-0755-84157385

E-mail: [email protected]
[email protected]

Address
:
Rm1312,A Block,Weidonglong Business Building,No.194 Meilong Rd,Longhua,Shenzhen,Guangdong,518109,CHINA